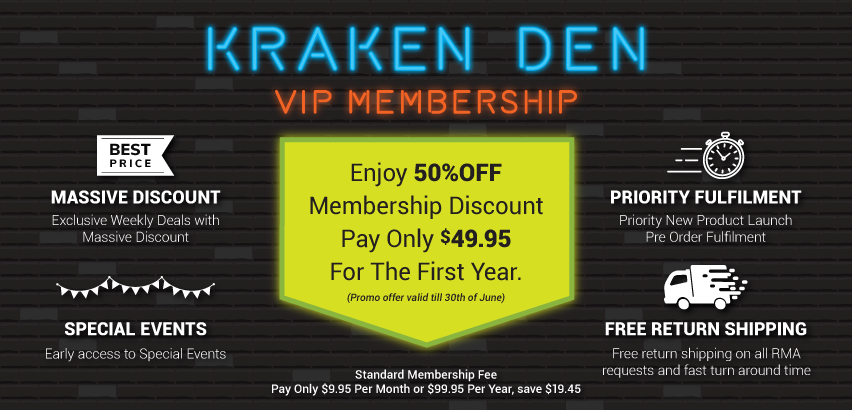 Kraken Power PC Premium Online Store Grand Opening Specials.
Enjoy a 50% membership fee discount, so you pay only $49.95 for the first year. (Promo offer valid till 30th of June)
JOIN NOW
Normal Membership Fee: You Pay Only $9.95 Per Month, or $99.95 Per Year, Save $19.45.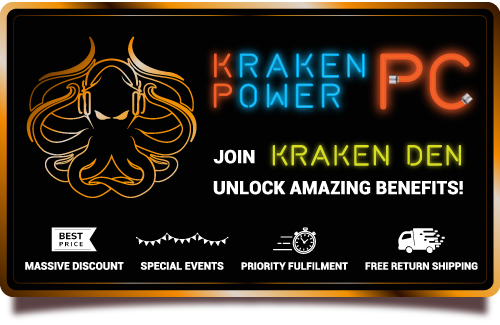 How to become a Kraken Den Member?
Step 1, Purchase SKU: KRAKENDEN
-1Y
from
www.kppc.com.au
Step 2, An email confirmation with membership certificate will be sent to you within 24 hours.
Step 3, Then login
www.kppc.com.au
again and review your membership details.
Step 4, Add member's only discount products into your shopping card, then check out.
What is my benefit?
1. Exclusive Weekly Deals with Massive Discount!
2. Priority New Product Launch Pre Order Fulfilment!
3. Early Access to Special Events!
4. Free Return Shipping on all RMA Requests and Fast Turn Around Time!
How can I renew my membership?
We DO NOT take any customer's credit card details for membership auto renewal.
Our system will send out three membership renewal reminders prior to its due date of expiry.
To renew, simply click on the renew button, then purchase one more year of membership and continue to enjoy our amazing discounts on offer.
How can I cancel my membership?
Kraken Den Memberships cannot be cancelled on a pro rata basis.
If you no longer wish to be a Kraken Den member, your membership will be automatically cancelled once your membership runs out.
But your login detail for
www.kppc.com.au
will be still be valid.