Kraken Power PC Service
Kraken Power PC is the Professional Gaming Division of BPC Group, and is backed by 30 years of experience in the IT and Gaming industry.
Customer satisfaction has always been our number one goal and priority from when the business commenced in 1989.
With great support from many IT product distributors and manufacturers, BPC Group has proudly become one of the largest independent IT products retailer and IT solutions provider.
Kraken Power PC will show to our loyal customers how seriously we are now focusing on Gaming Products and the E-Sports market.
Come and build your dream box with our experienced and qualified technicians, and as a Kraken Den VIP Member you will also enjoy the following benefits.
Free Assembly
When you purchase and customize your dream box from Kraken Power PC, you won't need to pay extra for assembly at any time.
This includes hardware assembly, software installation and testing / benchmarking.
We see this as part of our job as a "must do" process to ensure the quality of our products and your satisfaction as our customer.
KPPC customers will not be "out of pocket" for this process.
Free Gaming PC Consulting and System Design
Kraken Den Members VIP Service includes:
1 to 1 Free Gaming PC Consulting Service.
1 to 1 Free System Design Service, which will include both air cooling and liquid cooling systems.
During these services, we will make sure that our team understands each Kraken Den Member's unique requirements by following these steps.
Requirements Collection

To design the best system, we must understand how you want to use this PC, what type of games or software you'd like to run on it.
Also to ensure that we offer you the best value solution, we need to know your budget.

All About Presentation

We understand that as a Kraken Den member you will treasure your dream box, and so to make it a show piece, our professional team will make sure that each KPPC box is uniquely designed and based on each Kraken Den Member's requirements.

We will make sure of a Kraken Den Member's satisfaction on the system's looks, its size and its weight.

We will make sure of a Kraken Den Member satisfaction on the system's cooling efficiency, temperature control, dust control and noise control.

We will make sure of a Kraken Den Member satisfaction on the system's lighting design.

We will make sure of a Kraken Den Member satisfaction on system's cabling design.

System Compatibility Check

As enthusiasts, our team of technicians eat, sleep and breathe hardware.
We only recommend parts that we have tested and can make certain are all compatible together in the PCs.

Performance Check and Monitoring

All Kraken Power PC's are built with care and attention to detail before we ship your dream box to you. They must also pass a minimum 24 hours of hardware "burn-in" testing on our test bench.
All Kraken Power PC's are benchmark tested to review the true system performance in actual use.

Kraken Power PC only uses genuine, brand new components which are covered by Minimum two years "Return to Base" Warranty, which also includes all parts and labour.
All Kraken Den Members will also enjoy free return shipping on all RMA (warranty) requests.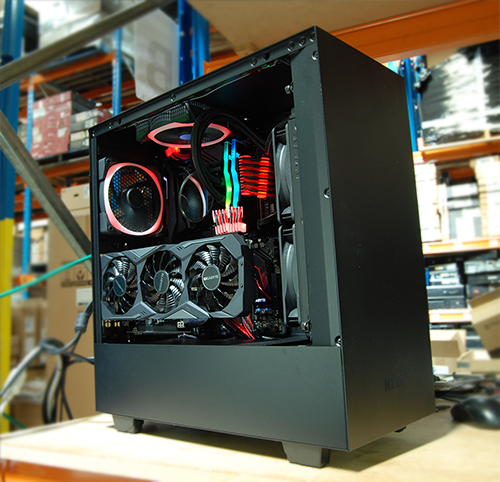 Custom Watercooled Gaming System
Our system engineers are certified in Hard Tubing water-cooling planning and design by Asus, MSI, Gigabyte and other various hardware vendors.
They have completed the Hard Tubing tests and have achieved their certificates provided by these vendors.
An example of the projects completed over the last few months can be seen in the pictures below.